WHERE TO STAY IN GUYANA
They are a wide range of hotels in Guyana to choose from, weather you are looking for luxury, boutique or a guess houses you name it in Guyana we have it . There are no high-season charges or low season changes in Guyana which mean the prices of where you plan to stay is usually the same throughout the year. 
Pegasus Hotel is the premier international Hotel in Guyana, which is located on the

delta of the Demerara River and Atlantic Coast, at the center of Georgetown's business and diplomatic district. This Hotel boast a long history of hosting international events and dignitaries, from Queen Elizabeth and the Royal family, to the former American President Jimmy Carter, celebrity Mike Jagger, Bollywood star Amitabh Bachchan, as well as, Heads of Governments, Diplomats and Business Executives.
Mixing contemporary culture with its local heritage, this Hotel offers the best of Guyanese hospitality blended with local and international cuisine, across from the US and Canadian Embassies and the Police Headquarter which makes it the most safe and best address in Guyana.  
Overlooking the Atlantic Ocean, our Georgetown Guyana hotel boasts 130 well-appointed rooms, as well as six dining and entertainment outlets—including the one-of-a-kind Aura Sky Lounge, which features a 360-degree view of Georgetown and the Atlantic Ocean.
RAMADA Georgetown Princess (formerly Princess Hotel and Casino an International Company) was endorsed on 1st April 2009. We were branded under the Ramada Worldwide Chain in 2015 and since then the Hotel has made significant changes and developments that are in keeping with the brand; modern rooms, luxury amenities, a lively poolside bar and the introduction of the first ever Teppanyaki Restaurant in Guyana.
Our magnificent six floor building is located on the once occupied Plantation Providence on the East Bank of Demerara; just 45 minutes from the Cheddi Jagan International Airport, 35 minutes from the Eugene Correira Ogle Airport and 20 minutes from the Capital City of Georgetown.
Unique among local hotels, Guyana Marriott Hotel Georgetown offers scenic luxury amid the area's most celebrated attractions. Embrace effortless relaxation in stylish rooms and suites with contemporary comforts, expansive work desks, plush pillowtop beds and views of the ocean. Savor distinctive fine dining at our Terra Mare Restaurant and innovative cocktails at our Caribe Boardwalk Pool Bar & Grill.
 Stay within steps of the U.S., British and Canadian Embassies and near St George's Cathedral, Lacytown and the Promenade Gardens. Celebrate and succeed in sophisticated event space for meetings, weddings and social engagements. Punctuate a satisfying day of business or sightseeing with premium wines, signature libations and diverse cuisine in our opulent Great Room, with massive floor-to-ceiling windows and breathtaking views of the city. With a sparkling pool, fitness center and courteous staff, Guyana Marriott Hotel Georgetown has everything you need, exactly when and where you need it.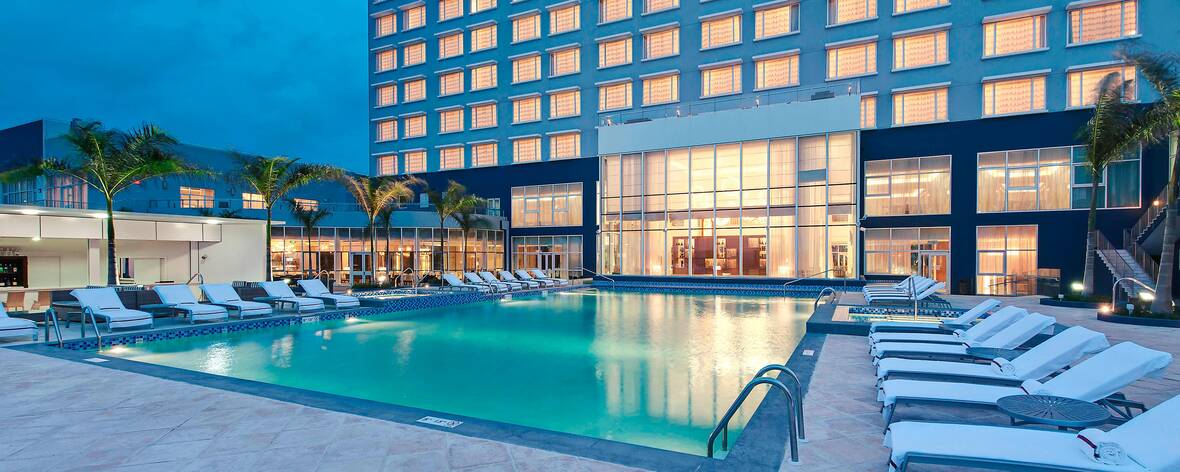 THE HERDMANSTON LODGE HOTEL
An intimate heritage hotel in Guyana. This upperscale Guyana hotel prides itself in excellent guest service. One of only a few Guyana hotels that has maintained Guyana's distinctive colonial architecture. The Herdmanston Guyana hotel is perched within extensive lawns and a garden which is home to some of the gentle flora and fauna of central Georgetown.
This Guyana Hotel is located in pristine residential neighborhood of Queenstown in Georgetown Guyana. While our lawns and gardens are spacious, our small hotel size allows us to offer to our guests a very personalized service catering for your every need. Come, stay with us, our hallmark is fantastic service.
Unmatched Beauty for your comfort and taste
As you visit Hermandston Lodge, you will become amazed at how a true GEM of Guyanese architecture, can give you an experience of comfort, quietude and tranquility that is simply unmatched. As you continue to read you will get a glimpse of why and how herdmanston lodge understands your needs and provides you with the highest level of service at unbelievably affordable rates.