Nursery & garden centre · Garden centre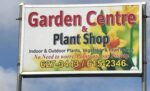 Address:
Unnamed Road, Schoonord, Guyana
Short Business Description:
The Garden Centre and Plant Shop has been a thriving, closed corporation for over 18 years. When the business was founded in 1998 our main activity was offering a wide assortment of flowering plants. Today, however, eighteen years on and with numerous changes in the direction and nature of the business, we still hold the essence of our plant shop. To provide our customers with excellent quality flowering plants and now plant products as well, for both domestic and commercial use, and soon to come vegetable plants.