Wedding, Events & Meetings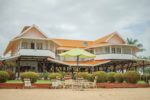 Short Business Description:
Escape to this exotic island paradise and experience one of Guyana's true gems. Peaceful, exotic & spectacular are just some of the words used to describe Baganara, a rainforest resort located five miles from Bartica in the Essequibo River
Long Business Description:
This 187 acre private island effortlessly blends the comforts of a scenic retreat with all the fun of an elegant, full-service resort where you can explore the wonders on our nature walk or on a kayak meandering silently through the creeks under the majestic canopy of the forest.
Whether you are a tourist visiting the rainforest or an executive flying in for the day, we invite you to discover the unique character and casual luxury of our Rainforest resort. Explore the marvels of unspoiled nature you'll encounter here and create memories that entice you to return to Baganara Island Resort again and again.
Short Business Description:
Pegasus Hotel Guyana is a timeless gem among hotels in Georgetown Guyana, and a luxurious marriage of classic and inviting friendly warmth all in a convenient setting in the heart of Guyana's capital.
Long Business Description:
Pegasus Hotel is the premier international Hotel in Guyana, which is located on the delta of the Demerara River and Atlantic Coast, at the center of Georgetown's business and diplomatic district. This Hotel boast a long history of hosting international events and dignitaries, from Queen Elizabeth and the Royal family, to the former American President Jimmy Carter, celebrity Mike Jagger, Bollywood star Amitabh Bachchan, as well as, Heads of Governments, Diplomats and Business Executives.
Mixing contemporary culture with its local heritage, this Hotel offers the best of Guyanese hospitality blended with local and international cuisine, across from the US and Canadian Embassies and the Police Headquarter which makes it the most safe and best address in Guyana.
Overlooking the Atlantic Ocean, our Georgetown Guyana hotel boasts 130 well-appointed rooms, as well as six dining and entertainment outlets—including the one-of-a-kind Aura Sky Lounge, which features a 360-degree view of Georgetown and the Atlantic Ocean.
Address:
Lot 179 Burnham Ave (Rosignol secondary school street) Rosignol West Bank Berbice.
Long Business Description:
Check out Savi's fashion for all your traditional Indian dresses for all occasions!