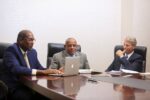 Short Business Description
Mr. C.A. Nigel Hughes is a Partner in the law firm Hughes Fields & Stoby and the Chairman of H F S Corporate Services Inc.
(L.L.B.) and a Masters in law ( L.L.M ) at University College, London University,
Called to the Bar in London as a member of the Inner Temple in 1982,
Joined the firm of Hughes Fields & Stoby in 1988,
Appointed to serve as President of the Guyana Bar Association in 2002, and as Vice President for three (3) consecutive years.

Business Address
62 Hadfield & Cross Streets, Georgetown, Guyana
Short Business Description
Admitted to practise as an Attorney-at-Law before the Courts of Guyana on the 12 October 1989 following in the footsteps of her late father M. Muntaz Ali, Barrister at Law, great uncle W.D. Dinally, Akbar Khan and other relatives.

Business Address
78 Hadfield and Breda Streets, Werk en Rust, Georgetown Guyana (br), South America